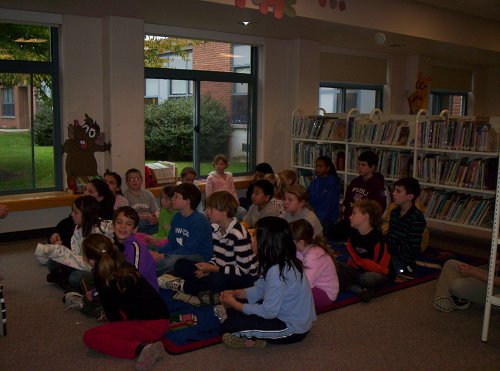 The goal of the library program is two-fold: to promote reading and to develop information literacy skills.
The library at Valley Forge Elementary School contains approximately 14, 000 items. These items are available for borrowing by students, parents, teachers and staff. The library's catalog and circulation system have been automated since the fall of 1995. The library also sponsors special programs; such as, Dictionary Week, the Falcon Book Club and participation in the Pennsylvania Young Readers' Choice Award.
All students are scheduled for library with their core classes. However, students are strongly encouraged to visit the library whenever they have time to receive additional help in choosing a book, or finding the answer to a question.
Kindergarten students may take out one book from the library at a time. First grade students may initially also take out one book. Later in the school year first grade students may take out one regular book and one publishing center book. Second grade students may take out any two items; for example, regular books, publishing center books or magazines. All primary division students' books are due on their next regularly scheduled library class. Students who have finished their books before their next class are encouraged to come to the library and choose another.
Upper division students may take out any two items for leisure reading for 16 days. In addition these students may take out any additional books that are necessary to support classroom work.
No fines are charged for overdue items. However, the students and their families are asked to be responsible for the replacement cost of items which are lost or damaged beyond repair.
Happy reading!!!
Elissa Sullivan, Librarian